Your NUMBER ONE source & the VERY FIRST fansite for an amazing Canadian artist Stuart "Stu" Stone!
スポンサーサイト
--/--/-- --. --:-- [edit]
上記の広告は1ヶ月以上更新のないブログに表示されています。
新しい記事を書く事で広告が消せます。
TB: -- / CM: --
Jamie Kennedy & Stu Stone's Fan Meetings!!
2006/07/03 Mon. 05:54 [edit]
6月30日~7月1日に
Laugh Factory
で開催されたスタンダップ・コメディーショーにジェイミー・ケネディが出演。(Source:
Click here
) 場所はニューヨークにある
Times Square
。ジェイミーの大ファンのMaryは友人のLou達と一緒に観に行って、そこでジェイミーとStuに会いました!その時の写真を公開します!!
Here are the pictures of the huge Jamie Kennedy/Stu Stone fans (Mary,Lou,Kathy,Pete,and Spencer) who met them at Jamie Kennedy's stand-up comedy show at Laugh Factory in NYC on July 1. I put these pictures with their permission. All the pics are so large,so I made them small. Click them to enlarge.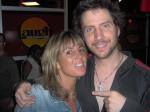 スポンサーサイト
« "Blowin' Up" album in stores & iTunes!!
Stu Stone FAQ Vol. 1 - July 2006 »
この記事に対するコメント
| h o m e |