Your NUMBER ONE source & the VERY FIRST fansite for an amazing Canadian artist Stuart "Stu" Stone!
スポンサーサイト
--/--/-- --. --:-- [edit]
上記の広告は1ヶ月以上更新のないブログに表示されています。
新しい記事を書く事で広告が消せます。
TB: -- / CM: --
TSM Radio Show 152
2008/11/29 Sat. 21:52 [edit]
Show 152
(November 28, 2008)
Stu is in the house. Our friends The Last Goodnight come by to visit and Jesus speaks. In this Jet lagged edition of TSM Radio.
Stu is now attending Australia's big event STEREOSONIC 2008 until November 30th! This episode was recorded when he returned to USA temporary from a trip to Australia.
Stuは現在、オーストラリアで開催中の一大イベント「Stereosonic 2008」に参加中(11/30まで)!このエピソードはそのツアー中、アメリカへ一時帰国した時に収録されたもの。
Guests: Kurtis John & Mike Nadeau (from The Last Goodnight) and Jesus.
You know, Kurtis and Mike has appeared on
Sunday Nite Stu's 2 Year/2million viewers anniversary show
before. Kustis has been on TSM Radio many times but this is the first time to show up on the show for Mike. They said they, The Last Goodnight, are working on the next album and hopefully they will release some new materials next summer...
カーティスとマイクは
SNSの2周年&視聴者数200万突破記念スペシャル(11/9)
にゲスト出演していました。カーティスはTSM Radioに何度か出ていますが、マイクは今回で初登場!The Last Goodnightは現在セカンド・アルバムを製作中だとか。来年の夏あたりで新曲が発表するかもしれないとも言っていましたね。楽しみ・・・♪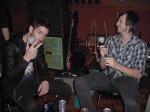 Music on this weeks show includes:
Tylers Riot "Static"
Elliott Yamin "Waiting For You"
The Last Goodnight "Incomplete" & "Poison Kiss"
インタビューを聴く方法:
1.音源ファイル(
www.tsmland.com/tsmradio/show152.mp3
)で直接聴く。
2.iTunesでTSM Radioを購読・ダウンロード(どちらも無料)。
↑の画像をクリックするとiTunesのページに飛びます。
スポンサーサイト
« Stereosonic '08 Videos!
TSM Radio Show 151 »
この記事に対するコメント
| h o m e |