Your NUMBER ONE source & the VERY FIRST fansite for an amazing Canadian artist Stuart "Stu" Stone!
スポンサーサイト
--/--/-- --. --:-- [edit]
上記の広告は1ヶ月以上更新のないブログに表示されています。
新しい記事を書く事で広告が消せます。
TB: -- / CM: --
TSM Radio Show 151
2008/11/22 Sat. 21:23 [edit]
Show 151
(November 21, 2008)
CableGuy presents B Foundation. Plus Bonnie McKee has some amazing news for us.
Guests: B Foundation, Bonnie McKee and Phillip Glasser.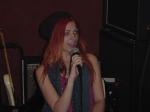 Bonnie McKee tells us some great news: She got cast on CSI: NY! She plays a singer songwriter named Eleanor Rivera, who is a subway performer. She will be performing 3 of her songs, including "To Find You" and "Trouble". Plus, she gets raped and murdered! You'll see her musical performance and her dead boby in the bathtub.... Oh wow.
Show 110
や
Show 118
にも出演したボニー・マッキー。その彼女が何と「CSI:NY」に出演することになりました!ボニーが演じるのはエレノア・リヴェラというシンガー/ソングライター。ニューヨークの地下鉄で新曲「To Find You」や「Trouble」などの3曲を劇中で披露するらしい。しかも彼女は強姦殺害されてしまう被害者役!バスタブで死んでいる彼女の遺体が発見されるシーンもあるとか・・・。演技とはいえ、ファンしては辛いかも。
From Bonnie's MySpace blog:
BIG NEWS!!! I GOT CAST ON CSI:NY!!!! [11/3/2008]
The B Foundation performs two songs on TSM Radio! Amazing!!
"Something New"
Phillip's catchphrase is: "Holla!!"(with Hebrew pronounciation)
All together!
The B Foundation:
www.myspace.com/thebfoundation
Bonnie McKee:
www.myspace.com/bonniemckee
インタビューを聴く方法:
1.音源ファイル(
www.tsmland.com/tsmradio/show151.mp3
)で直接聴く。
2.iTunesでTSM Radioを購読・ダウンロード(どちらも無料)。
↑の画像をクリックするとiTunesのページに飛びます。
スポンサーサイト
Category: TSM Radio Season 3
« TSM Radio Show 152
"Bitten" is out on DVD in Japan »
この記事に対するコメント
| h o m e |