Your NUMBER ONE source & the VERY FIRST fansite for an amazing Canadian artist Stuart "Stu" Stone!
スポンサーサイト
--/--/-- --. --:-- [edit]
上記の広告は1ヶ月以上更新のないブログに表示されています。
新しい記事を書く事で広告が消せます。
TB: -- / CM: --
Mothers Day/ TLG on SNS / Happy Birthday Ely!!
2008/05/14 Wed. 04:21 [edit]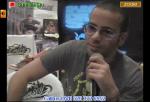 5月11日は母の日でしたが、皆さんはどのように過ごしましたか?母の日に限らず、母親への感謝の意を述べるのはとても大事なことだと思います。
12日の午後2時頃(日本時間;カリフォルニアでは時差の関係でまだ11日の午後10時でした)、
The Last Goodnight
のボーカリスト・Kurtis Johnとキーボード担当のEly Riseのお二人が"The Sunday Nite Stu"に出演!
TLGはオーストラリアでのツアーから帰ってきたばかり。そこでツアー中の話を本人たちの口から聞く事ができました。
Left to right: Kurtis, Ely, Stu.
そしてなんと!11日はElyの誕生日でした!!Happy Birthday Ely "The Creep" Rise!!!!
以下はその時の動画です。
Ely Creep Rise from The Last Goodnight Talks with Stu Stone:
Kurtis John from The Last Goodnight talks to Stu:
[English]
May 11 was not only Mothers Day but also Ely "The Creep" Rise's birthday!!
Happy (Belated) Birthday Ely!!xD
Also, the small news - Kurtis John and Ely Rise appeared on Stu Stone's broadcast live Stickam show "Sunday Nite Stu" on the same day. People called in to the show and talked to Kurtis and Ely. And the singer Jenna Lynn (from Conneticut, I believe) sang happy birthday for Ely.
You can watch the clip at
Stickam page
or
MySpace page
.
スポンサーサイト
« TSM Radio Show 124
TSM Radio Show 123 »
この記事に対するコメント
| h o m e |