Your NUMBER ONE source & the VERY FIRST fansite for an amazing Canadian artist Stuart "Stu" Stone!
スポンサーサイト
--/--/-- --. --:-- [edit]
上記の広告は1ヶ月以上更新のないブログに表示されています。
新しい記事を書く事で広告が消せます。
TB: -- / CM: --
Kaz James Headlines
2008/04/14 Mon. 12:12 [edit]
OneLove AustraliaやSony BMG Australiaのホームページでは、Kaz Jamesがでかでかとフィーチャーされています。
Kaz James is featured on OneLove Australia website and Sony BMG Australia website now!!
OneLove Australia
:
Sony BMG Music Entertainment [Australia]
:
Sony BMG Musicbox
:
Sony BMG music Entertainment News
:
Hot Kaz James 'Breathe' Video Has Arrived(April 11)
Kaz James' Debut Single 'Breathe' Hits iTunes (April 11)
Kaz JamesのYouTubeページができました!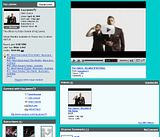 http://www.youtube.com/user/KazJamesTV
#16 - Most Subscribed (This Week) - Australia
#1 - Most Subscribed (This Week) - Musicians - Australia
#49 - Most Subscribed (This Week) - Musicians
#5 - Most Subscribed (This Month) - Musicians - Australia
#8 - Most Viewed (This Week) - Musicians - Australia
#65 - Most Viewed (This Month) - Musicians - Australia
スポンサーサイト
Category: News
« Breathe music video!
"Breathe" still hits ARIA Chart/ The Last Goodnight's "Pictures Of You" is No.1!! »
この記事に対するコメント
| h o m e |