Your NUMBER ONE source & the VERY FIRST fansite for an amazing Canadian artist Stuart "Stu" Stone!
スポンサーサイト
--/--/-- --. --:-- [edit]
上記の広告は1ヶ月以上更新のないブログに表示されています。
新しい記事を書く事で広告が消せます。
TB: -- / CM: --
Behind the Scenes: Kimbo Slice on Jimmy Kimmel Live / Kimbo Slice vs. Tank Abbott
2008/02/18 Mon. 04:33 [edit]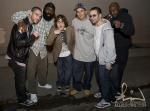 2月7日、アメリカの総合格闘家・アマチュアボクサーのKimbo Sliceが「Jimmy Kimmel Live」に出演。その本番前、番組のスタジオで、Stuは友人のAndy Milonakisを連れてKimboに会いに行ったそうです。以前StuはKimbo Sliceに会った事があるので、Kimboの大ファンであるAndyにも会わせようと考えたのでしょう。(※一番上の写真はKimbo Slice,Iceymike,Jared Shawらとの集合写真です。)
On Feburuary 7th, Kimbo Slice was in LA doing press for the upcoming fight, and Stu Stone brought one of his friends Andy Milonakis to come meet Kimbo. Andy is one of Kimbo's biggest fans.
Watch the footage below!!
Take an exclusive look behind the scenes with Kimbo Slice, Iceymike, Andy Milonakis, Guillermo and more at the Jimmy Kimmel Live Studios in Hollywood, CA.
↓その時の動画がYouTubeにて公開中! |||| Kimbo Slice EliteXC Fighter on Jimmy Kimmel Live 2-7-08
Photos:
Kimbo Slice on Jimmy Kimmel Live: Feb. 7, 2008 (Flickr)
上記のリンクで意外な人物を発見!
(左から→Andy Milonakis,Kimbo Slice, Dirt Nasty)
・・・Dirt Nasty(またの名をサイモン・レックス)も来てたんかい!
« TSM Radio Show 112
Winners for ELAN Awards Announced!! »
この記事に対するコメント
| h o m e |