Your NUMBER ONE source & the VERY FIRST fansite for an amazing Canadian artist Stuart "Stu" Stone!
スポンサーサイト
--/--/-- --. --:-- [edit]
上記の広告は1ヶ月以上更新のないブログに表示されています。
新しい記事を書く事で広告が消せます。
TB: -- / CM: --
TSM Radio Show 109
2008/02/05 Tue. 03:27 [edit]
Show 109(February 01, 2008):
This week we have Rapper Yung Berg & from the classic movie American Tail the voice of Fivel, Phil Glasser.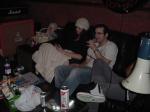 Show 109ではラッパーのYung Bergや「アメリカ物語」(スティーヴン・スピルバーグが始めて手がけた長編アニメーション映画)でファイベル役だった俳優のフィリップ・グラッサー(Phillip Glasser)等をゲストに迎える。
Click here to listen!!
Featured artist:
Yung Berg (
www.myspace.com/yungberg
)
Jimmy Dugan(
www.myspace.com/customizedbeats
)
ちなみにフィリップ・グラッサーは、去年アメリカで公開されたコメディ映画「Kickin' It Old Skool」(「スクリーム」のジェイミー・ケネディ主演)でプロデューサー業に進出。1978年10月4日、カリフォルニア州Tarzana生まれの29歳で、「アメリカ物語」公開当時(1986年)ではまだ7歳!Somewhere Out There", "Never Say Never", "A Duo"の三曲を劇中で歌っている。
An American Tail - Somewhere Out There
スポンサーサイト
« Stu eats Dog Food after losing a Super Bowl Bet
TSM Radio Show 107 & 108 »
この記事に対するコメント
| h o m e |