Your NUMBER ONE source & the VERY FIRST fansite for an amazing Canadian artist Stuart "Stu" Stone!
スポンサーサイト
--/--/-- --. --:-- [edit]
上記の広告は1ヶ月以上更新のないブログに表示されています。
新しい記事を書く事で広告が消せます。
TB: -- / CM: --
Show 71
2007/05/10 Thu. 01:04 [edit]
So The Sunday Nite Stu went back to live on Stickam again on May 6! That's why TSM Radio went live again (for ages?)!!
This week TSM Radio have a live chef in the studio to whip us up something,plus a Penthouse Playmate Cover Girl? Nice!!!
SNS(Sunday Nite Stu)が6日にStickamでのライブ中継が出来るようになったそうです。ということはStickam側からの許可が出たって事でしょうか。TSM Radioでのライブ収録が再び開始したそうなのでファンとしては嬉しいです(見逃したけれど・・・涙)。
Show 71では、ラスベガスからプロのシェフが出演、ライブ中に料理を披露!そして、「
Penthouse Magazine
」の今月号の表紙を飾ったKrista AyneとCassia Rileyもゲスト出演。
Krista Ayne:
http://www.myspace.com/kristayne22
Cassia Riley:
http://www.myspace.com/cassiariley
Penthouse (Myspace):
http://www.myspace.com/penthouse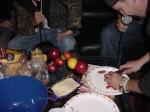 スポンサーサイト
« Stu's solo tour!!
2 Dudes & A Dream poster & myspace! »
この記事に対するコメント
| h o m e |