Your NUMBER ONE source & the VERY FIRST fansite for an amazing Canadian artist Stuart "Stu" Stone!
スポンサーサイト
--/--/-- --. --:-- [edit]
上記の広告は1ヶ月以上更新のないブログに表示されています。
新しい記事を書く事で広告が消せます。
TB: -- / CM: --
Show 66: The Creep is back!
2007/04/11 Wed. 21:25 [edit]
Yes, Ely Rise aka "The Creep" is back!! Welcome back Creep!! Oh and don't forget Andy Milonakis is back as well.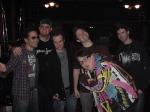 Watch this clip from "Creep's 7 Minutes in Heaven":
The audio of "7 minutes in Heaven" is available on
http://www.myspace.com/tsmradio
.
"Welcome Back Creep" song (by A.B.S.) available for download:
http://www.myspace.com/abs
スポンサーサイト
« This weeks Sunday Nite Stu(SNS): Winner get grills & Stu got shaved
TSM TV (Season 6) »
この記事に対するコメント
| h o m e |