Your NUMBER ONE source & the VERY FIRST fansite for an amazing Canadian artist Stuart "Stu" Stone!
--/--/-- --. --:-- [edit]
上記の広告は1ヶ月以上更新のないブログに表示されています。
新しい記事を書く事で広告が消せます。
TB: -- / CM: --
2011/01/27 Thu. 05:01 [edit]
Star-Studded Movie 'Sibling' Shoots In PittsburghPITTSBURGH
-- It came and went without much fanfare but another star-studded movie just finished shooting in Pittsburgh.
The horror movie, "Sibling," stars Mischa Barton, Michael Clarke Duncan and Devon Sawa and was filmed almost exclusively at the former Knoxville Middle School for about 20 days in December.
Co-producer Amanda McBride told See & Be Seen that the majority of the story takes place in the school, starting during the school day and going into the late hours of the night.
Channel 11's partners at The Tribune-Review visited the set and snapped some great photos.
Sibling is directed by Matt Orlando and is produced by Pittsburgh native Brian Hartman.
Hartman also produced locally filmed movies "Riddle," with Val Kilmer, and "The Bridge To Nowhere" with Ving Rhames.
"Our veteran Pittsburgh crew finished this one out after a long year filled with multiple large studio productions, and quite a few local Indie films as well. Many rolled over from a film in November, without a single day off," McBride said.
While he was in town, actor Devon Sawa tweeted about everything from the Winter Classic to his quest for an unusual Pittsburgh souvenir. He was looking for a snow globe and posted a picture of one he purchased.
Sawa, a native of Canada, tweeted, "24/7 has made me feel like I'm 14 again. This Winter Classic coverage is exciting. They've captured the feeling of hockey."
"It was a pleasure working with stars Mischa Barton, Michael Clarke Duncan and Devon Sawa. Each of the three had a close friend come out to Pittsburgh with them to be witness to Pittsburgh's movie making magic," McBride told See & Be Seen.
Additional out-of-town cast members included J Michael Troutman, Nick Jandl and Stuart Stone.
McBride said Pittsburgh's local talent also had a lot to offer.
"We held casting in both LA and Pittsburgh, and found quite a few of our main roles best fit by local talent, which was simply wonderful. Not only is Pittsburgh well versed on the production side of movie making, we are really turning out talented actors as well," McBride said.
According to The Trib, the producers plan to sell "Sibling" in May at the Cannes International Film Festival in France.
Source:
http://www.wpxi.com/news/26375570/detail.html
Video:
Watch the story
スポンサーサイト
Category: Articles/Press
2011/01/27 Thu. 04:50 [edit]
There is an official website of "The Sibling" coming soon! Also they opened the IMDb page for the movie! Check them out for more info!!
ミーシャ・バートン、マイケル・クラーク・ダンカン、そしてデヴォン・サワ共演の学園ホラー【The Sibling】の公式サイトがもうすぐオープンされるようです。IMDBページもやっと開設!詳しいスタッフやキャスト情報がどんどん公開されています!!もちろんStuart Stoneの名前も載ってます♪
www.thesiblingmovie.com & The Sibling (2011) - IMDb
【スタッフ】
監督・脚本:マット・オーランド
製作:フィリップ・グラッサー、ブライアン・ハートマン、アーロン・レヴィン
ライン・プロデューサー:アマンダ・ジェーン・マクブライド
撮影監督:ジェフ・ガートン
キャスティング:ロー・ベイカー
プロダクション・デザイン:レンディー・リー
セット装飾:スミス・ハーパー・ハッチングス
衣装デザイン:ダイアン・コリンズ
【キャスト ※()は役名】
ジョナサン・マイケル・トラウトマン(イーライ)
スチュアート・ストーン(ニック)
ニック・ジャンル(ブランドン)
マイケル・クラーク・ダンカン(アディソン)
ミーシャ・バートン(ジェシー)
デヴォン・サワ(トラヴィス)
マシュー・ウィリグ(ヴィンス)
ブレンドン・メーズ(アレックス)
アランナ・ロマンスキー(タミー)
アニー・キットラル(The Bruja)
モーガン・ウォルク(ディアン)
2011/01/26 Wed. 11:10 [edit]
These videos below are from Stu's trip to Florida! Stuが今月中旬にフロリダに滞在していた時の映像を三本立てでご紹介します。
Watch Stu Stone meet and joke with Dick outside of Wall Mart in Florida.
Stuがウォールマート前で出会ったDickという男性とジョークを交わしています。
Watch Stu Stone and his sisters have fun inside wall mart as they gather a crowd.
Stuが姉のKarieさんと妹のDenaさんと一緒にウォールマートでお買い物を楽しんでいます♪
サプライズ大好きなStuは、フロリダに来ていた母Trudyさんへのドッキリ作戦を決行!一緒に来ていたKarie、Denaや親戚の皆さん、そしてBarbaraさん(ジェイミー・ライズの母親)も仕掛け人。
Stuを驚かせようとビデオチャットで生中継していたTrudyさんでしたが・・・。Trudyさんの反応にご注目!!
Photos:
Tweet Photo Collection 2011 Vol.1: The Stone family's Trip to Florida
2011/01/26 Wed. 02:36 [edit]
Show 262
(January 7, 2011)
First show of 2011 and what a way to start it off. Jessie Malakouti is this weeks guest plus new emails and new heat of the week with Young Church. Enjoy.Guest:
Jessie Malakouti
Show 263
(January 14, 2011)
Comedian Gary Owen is this weeks guest and you don't want to miss what he has to say. Plus another amazing Cables 5 mins and of course Stu.Guest:
Gary Owen (
Official Site
/
Twitter
)
Show 264
(January 21, 2011)
From NWA Hollywood David Marquez is our guest this week. Plus a special friend in TSMLand has passed.Guests:
David Marquez and Blues Music from Blues Destiny Records
先週、Sunday Nite Stuでもお馴染みだった名犬Austinがこの世を去りました・・・。Rest in peace.
From Stu's message:
on behalf of myself and Wes - thank you for all of your kind words and support during this sad time. Austin was the best dog. Everyone who met him fell in love with him. He will be missed and never forgotten.
How to listen to this episode [このエピソードを聴く方法]:
1.
TSM Radio Player
→
Archive
へ飛んで直接聴く(毎週金曜日に更新。過去のエピソードも聴けます!)。
2. iTunesでTSM Radioを購読・ダウンロード(どちらも無料)。
↑の画像をクリックするとiTunesのページに飛びます。Just click on the button and subscribe.
2011/01/24 Mon. 15:36 [edit]
Over hundresd or thousands of people have re-tweeted Stu's recent tweet today(Jan 23rd, 2011)!
From Stu's tweet:
somewhere Brett Farve just threw his remote at the TV....and it was intercepted.
Even @TopTweets have re-tweeted this tweet lol
http://twitter.com/#!/toptweets/favorites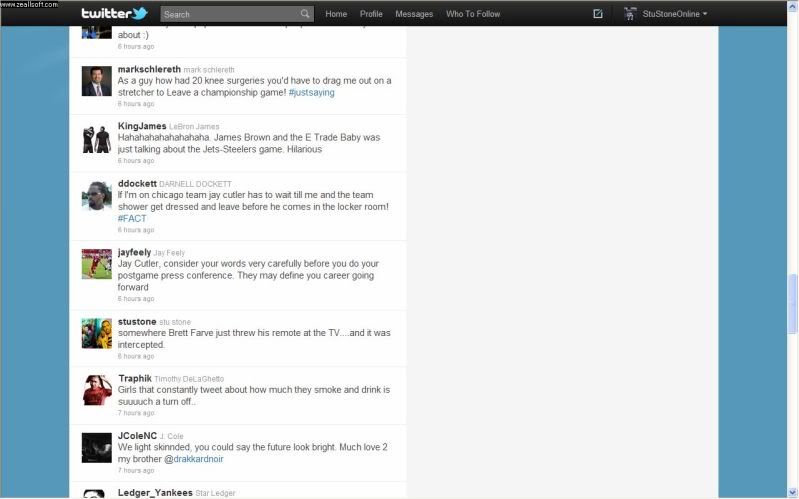 http://twitter.com/#!/stustone/status/29316606039425024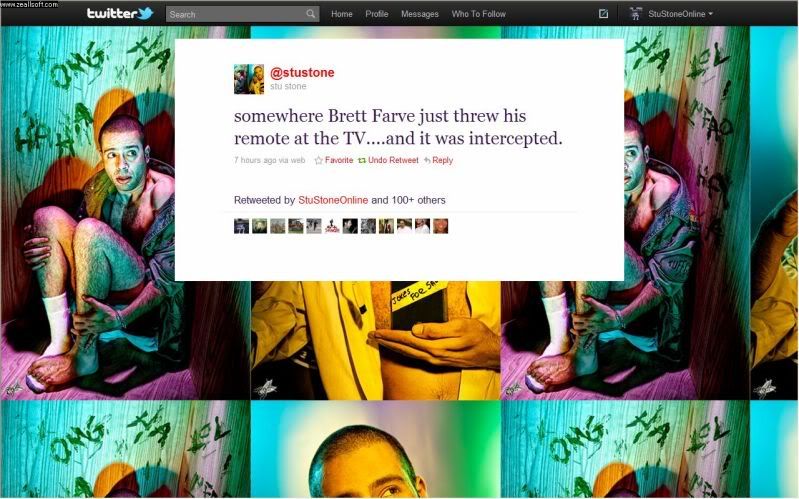 2 hours later...
I guess Brett Farve saw my tweet. I think he's pissed. He just texted me...its a picture file...haven't opened it yet.
http://twitter.com/#!/stustone/status/29344670614032384
2011/01/16 Sun. 03:34 [edit]
Stu's mom Trudy had a birthday on January 13, 2011. She was traveling to Florida with her family and had a great time!
[January 12, 2011]
My moms reaction to our surprise is #classic
[Jan. 13, 2011]
Me and my nephew stunnin' on fools
converting @DeNaEisenstein
Is my family weird?
[Jan. 14, 2011]
How to get a 4 year old to be quiet.
[Jan. 15, 2011]
Only fine dinning for my nephews #chikfila
[Jan. 16, 2011]
teaching my main man how to be #canadian
VIDEO:
The Stone Family in Florida
2011/01/06 Thu. 18:39 [edit]
Watch Stu's remake for Notorious B.U.M.!
Notorious B.U.M.(original):
2011/01/01 Sat. 12:21 [edit]
新年明けましておめでとうございます!
去年はたくさんのご観覧・閲覧ありがとうございました!
皆様のご支援のおかげでなんと!5年もサイト運営を続けることができました。
今年もよろしくお願いしますm(_ _)m
本日、いつも仲良くしていただいている相互リンクの方々から、素敵過ぎるNew Yearsプレートを頂きました!詳細はRead Moreをクリック!!
| h o m e |