Your NUMBER ONE source & the VERY FIRST fansite for an amazing Canadian artist Stuart "Stu" Stone!
--/--/-- --. --:-- [edit]
上記の広告は1ヶ月以上更新のないブログに表示されています。
新しい記事を書く事で広告が消せます。
TB: -- / CM: --
スポンサーサイト
Category: News
2007/05/17 Thu. 04:13 [edit]
AAAAAAAAAY What's hannennenn???? Read this news from Sporty O's myspace blog!!
From
Sporty O's myspace blog
:
Sporty-O was released from the hospital May 7th and is recovering at a miraclous rate doctors at Grady Hospital in Atlanta tell our sources. He is talking extremely well now and walking around just fine after suffering severe gunshot wounds to the face and leg after a failed robbery attempt, May 2nd, in front of his College Park home. Sporty-O is expected to be back touring and recording in the studio with Super Producer, Justin Trugman in the next two weeks. Continue to pray for Sporty-O and his speedy recovery and we here at the Home Team offices would like to thank all of Sporty-O's fans and supporters for your prayers and encouraging words!!!!! Stay Tuned as the story continues to unfold around the Southside Superstar, Sporty-O!!!!!!!!
2007/05/17 Thu. 03:13 [edit]
First of all,I added some new videos & photos in
videos section
&
photo section
today! Check them out!! More stuff coming soon,maybe!! ;)
Stu is being interviewed on Hollyscoop.com at the Lyric Culture Fashion Show in Hollywood on May 11. And he talked about the Stickam fight between Intern Joe and Intern John!!
ハリウッド発ゴシップサイト
Hollyscoop.com
のインタビューを受けたStu。11日にハリウッドで開催されたLyric Culture Fashion Showに出席した時のインタビュー映像です。(ちなみにこのファッションショーではBlack Eyed Peasのファーギーがパフォーマンスしたそうです! Source:
Hollywoodtoday.net
)
Watch this clip below:
(Reporter/interviewer: Diana Megpapian)
http://www.brightcove.com/title.jsp?title=883579718
※2分35秒後にStuが登場します。
(Stu & Noras from HollyScoop.com)
2007/05/17 Thu. 02:35 [edit]
Stu announced he's going to have his solo tour this summer. Still haven't heard about the details yet but at least there was imformation about the cities he might visit and the tour dates! He'll be traveling arounf the US about 20 cities. Hope they will travel around the world and come to visit you & broadcast live from your city! Must be exciting!!!! For more concert info, check out
SSAF's blog
.
This is the poster from his first solo live concert in Tempe,Arizona on May 30!!
Go see the performance at:
Cherry Lounge and Pit
411 S. Mill Ave
Tempe, AZ 85281
http://www.cherryloungeaz.com/
Stuが今月30日に、アリゾナ州TempeのCherry Lounge and Pitで初のソロコンサートを開催する事が決定しました!他にもDJ Joey Nicksが現在所属しているヒップホップ・バンド
Pompous Pack
も出演する予定。もしコンサートが成功したら、今夏に全米各地の都市や町を回るツアーをやるつもりだと言っていました。現在はロサンゼルス、ラスベガス、ヒューストン(テキサス州)、ダラス
(テキサス州)、オクラホマ、メンフィス(テネシー州)、クリーブランド(オハイオ州)、シカゴ(イリノイ州)、ミルウォーキー(ウィスコンシン州)、デトロイト(ミネソタ州)、ニューヨーク、ボストン(マサチューセッツ州)、カナダ・オンタリオ州トロント等21箇所を回るそうです。日本にも来て欲しいですね。
2007/05/10 Thu. 01:04 [edit]
So The Sunday Nite Stu went back to live on Stickam again on May 6! That's why TSM Radio went live again (for ages?)!!
This week TSM Radio have a live chef in the studio to whip us up something,plus a Penthouse Playmate Cover Girl? Nice!!!
SNS(Sunday Nite Stu)が6日にStickamでのライブ中継が出来るようになったそうです。ということはStickam側からの許可が出たって事でしょうか。TSM Radioでのライブ収録が再び開始したそうなのでファンとしては嬉しいです(見逃したけれど・・・涙)。
Show 71では、ラスベガスからプロのシェフが出演、ライブ中に料理を披露!そして、「
Penthouse Magazine
」の今月号の表紙を飾ったKrista AyneとCassia Rileyもゲスト出演。
Krista Ayne:
http://www.myspace.com/kristayne22
Cassia Riley:
http://www.myspace.com/cassiariley
Penthouse (Myspace):
http://www.myspace.com/penthouse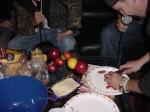 2007/05/05 Sat. 00:08 [edit]
現在撮影中の新作映画「2 Dudes & A Dream」のポスターがMyspace.comで公開されました!
Here's the poster of "2 Dudes & A Dream":
Add "2 Dudes and A Dream" myspace page:
http://www.myspace.com/2dudesandadream
↓撮影中の写真を独占入手!
2007/05/04 Fri. 23:37 [edit]
This news is very shocking.....
Sporty O got shot twice (one in his face and one in his leg...) in Atlanta at 4 am on May 2,as you already know. He's ok and he is in the hospital now. Let's keep him in our thoughts and prayers,and we wish him the speedy recovery and the comeback!!
Source:
All Hip Hop News
Contactmusic.com
5月2日の午前4時頃、ラッパーのSporty Oがアトランタで銃撃事件に遭ったそうです!どうやら強盗による犯行らしい。彼は顔と脚に一発ずつ撃たれましたが幸い命に別状はなく、現在病院で治療を受けています。Sporty OはTSM Radioや「Blowin' Up」にも出演し、全米各地でツアーも開始し、徐々に注目を集めていた矢先の事でした。
Sporty Oをプロデュースした
Justin Trugman
のブログによると、現在彼は病院での治療のおかげで徐々に回復しているのだとか。いつか退院して、再びSportyが元気な姿で活躍できる事を祈ります。
From
Justin Trugman's blog
:
I just spoke with Sporty. He is in good spirits and recovering from the shooting and operations. He wants to thank everyone for all of the kind words and prayers that you have been sending. The Southside Superstar will be back on his feet, performing and recording in the next few weeks.
Check out Sporty O at:
http://www.sporty-o.com
http://www.myspace.com/sportyo
2007/05/04 Fri. 22:44 [edit]
Sunday Nite Stu(SNS)で起こったIntern Joe & Johnの喧嘩がStickam.comで問題となり、SNSとTSM RadioのStickamページへのログインが出来なくなった為、Show 70のライブ収録は断念。Show 70ではその事についてStu達が語っています。Robin "Hiya Stu"やJosh Gray-EmmerとボーイフレンドのCarlos、そしてIntern Joeも出演。
なぜSNSで喧嘩が起こってしまったのか?
| h o m e |